WELCOME
We are a small and personal winery. The wines are handcrafted from the specially chosen vineyard sites around Central Otago. The wines are as dry as we can make which lifts the intensity of the grape flavour. Where a wine has been oak, such as our Chardonnay, the oak is in the background as a suble finish. The wines are all 100% of grape variety and are bottled off the lees (sediment). They are not filtered and contain no additives. The two main wines are Pinot Noir and Chardonnay. I also have smaller lots of Riesling and Pinot Gris. The winery also has two old Port Wine Styles- Valpy 1989 and Single Vintage 1990. Visits are by arrangement and run about 1 hour approx. This time is yours alone and you will not be interupted by another group.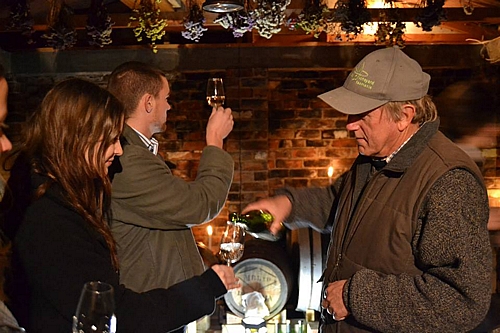 Tasting Molly Bloom Chardonnay 2012

THE WINES
Row 47 Pinot Noir- 2002
Molly Bloom Chardonnay 2012
Pinot Noir light red three years blend.
Amethyst Pinot Noir 2012
Amethyst Pinot Nior 2011
Alexandra Pinot Gris 2012
Alexandra Reisling 2012
Dry Muscat decade years blend
Valpy Vintage 1989 Port style
Single Vintage 1990 Port style
VR Pinot Noir 1999