PORT
SHIRAZ
CHARDONNAY
Get your name and degree on the label.
Go to the wine list page on the above menu
.
This is the revolutionary new wine closure with the convenience of screw cap and the pop of a cork.
Weston Winery is a member of the Zork Initiative Group. (ZIG)
NEW ZEALAND DISTRIBUTERS FOR THE ZORK CLOSURE ARE
NEWS
New Releases
Pinot Noir 2010 Dunstan RD1
Dunstan RD1 RieslingVineyard
WINES are handcrafted in my winery from the specially chosen vineyard sites in Queenstown, Bendemeer, Lake Hayes, Cromwell basin, and Roxburgh in Otago New Zealand. Wine years range from 1999 to the NEW wines of 2010. A range of pure Pinot Noir, Chardonnay and Black & Red Currant wines including my 1989 Valpy Port Wine.
Fun girls tasting classic Chardonnay

Tasting Page

The golden hills of Otago are packed with gold, And the white peaked mountains are high and old, And far below run the rivers cold, And on the ledges and the flats, spread the green vines like a mat . Turn away ye not dear fellow- I say! Drink instead, for the day is old and the work is done. And it is time to be merry and bold of dream! And fill yourself from the golden stream!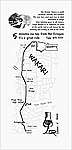 Click on the map above to see a large version of the map that you can print off. (highest black printing quality is best)
TASTINGS $20.00
Booking required
More details on the
Tasting Page
Also ask at the Dunedin Visitors Center in the Octagon or Dunedin Railway Station
Take a Taxi
DUNEDIN TAXIS
477 7777